'Earth Angel' Hosta will enhance any garden with its eye-catching foliage and its ability to thrive in shaded areas.
Selected as the Hosta of the Year by the American Hosta Growers Association in 2009, 'Earth Angel' is a show-stopping specimen whose charm only grows as the years go by.
From planting tips to expert advice on maintenance, you'll soon be a hosta aficionado, nurturing an attractive garden that continues to impress year after year. Now, let's get started on our 'Earth Angel' Hosta journey.
'Earth Angel' Hosta Plant Overview
'Earth Angel' Hosta, scientifically named Hosta 'Earth Angel,' is a noteworthy member of the Hosta family. It features large, heart-shaped, blue-green leaves with wide, creamy yellow margins.
Its eye-catching 12″ long x 9″ wide leaves make it a favorite among garden enthusiasts. The plant's size adds to its appeal, as it grows quite large, reaching up to 3 feet in height and as much as 5 feet in width.
Learn more about giant hostas. See our article Explore the World of Giant Hostas: Growing Tips and Tricks
The original registration description lists the leaf margin color as creamy white. I have never grown an 'Earth Angel' with whitish margins and the pictures I have found all show varying degrees of a creamy yellow margin.
Mark Zilis also states in his book, The Hostapedia, that the plants he has examined had leaf margins were from greenish yellow to light yellow.
Hosta 'Earth Angel' is a beautiful sport of the well-known 'Blue Angel' hosta.
Known for its impressive size and undulating texture, this Plantain Lily creates a distinct focal point when planted in clusters or combined with other shade-tolerant plants.
Here's a quick overview of Earth Angel's features:
Large, heart-shaped leaves
Blue-green leaves with creamy yellow margins
Low-maintenance, shade-loving plant
Eye-catching size and texture
Thick, corrugated leaves – less attractive to slugs
'Earth Angel' contributes to any garden aesthetics, making it an attractive and versatile choice for both novice and experienced gardeners.
Appearance and Characteristics
Height:
30-36 Inches
Spread:
48-60 Inches
Size Classification:
Giant
Plant Habit:
Mound
Foliage Color:
Blue-Green & Yellow
Sunlight:
Part Sun to Shade
Growth Rate:
Moderate
Scape Height:
40-48 Inches
Flower Color:
Pale Lavender
Bloom Time:
July
Fragrant:
No
Ploidy:
Diploid 2-2-2 (Assumed)
Hosta 'Earth Angel' Flowers
Hosta 'Earth Angel' produces delicate bell shaped, pale lavender flowers, which complement its large, variegated blue-green leaves. These flowers bloom in midsummer and provide an attractive contrast to the foliage.
These flowers attract pollinators such as bees, butterflies, and hummingbirds.
Each flower scape averages about 40 inches tall can produce 20 to 30 2-inch long flowers.
The History of 'Earth Angel'
'Earth Angel' hosta is a sport of H. 'Blue Angel', Hans Hansen registered this cultivar in 2002.
The First sport of 'Blue Angel' with a colored margin variegation, in this case creamy yellow and a  huge hit when it was first offered in 2006.
As a testament to its beauty, 'Earth Angel' Hosta earned the prestigious title of 2009 Hosta of the Year from the American Hosta Growers Association.
'Earth Angel' Hosta Care
To ensure your H. 'Earth Angel' thrives and provides a stunning display, it's important to understand the essential care tips and helpful hints for growing and maintaining this plant. By following these guidelines, you'll be able to enjoy a healthy, vibrant 'Earth Angel' Hosta for years to come.
These giant hostas love their water and, to achieve optimal growth for your 'Earth Angel' hosta, provide it with consistent water. A pinpoint water source at the base of the plant will save you water.
For the best location, choose a spot with partial shade, bright shade is ideal. It will also take morning sun. However, the hot afternoon sun will damage the leaves and set the plant back or even eventually kill it.  
These large plants need lots of nutrients to grow but be careful with the fertilizer. Overfertilization can cause soft growth, damage roots and lead to insect and disease problems.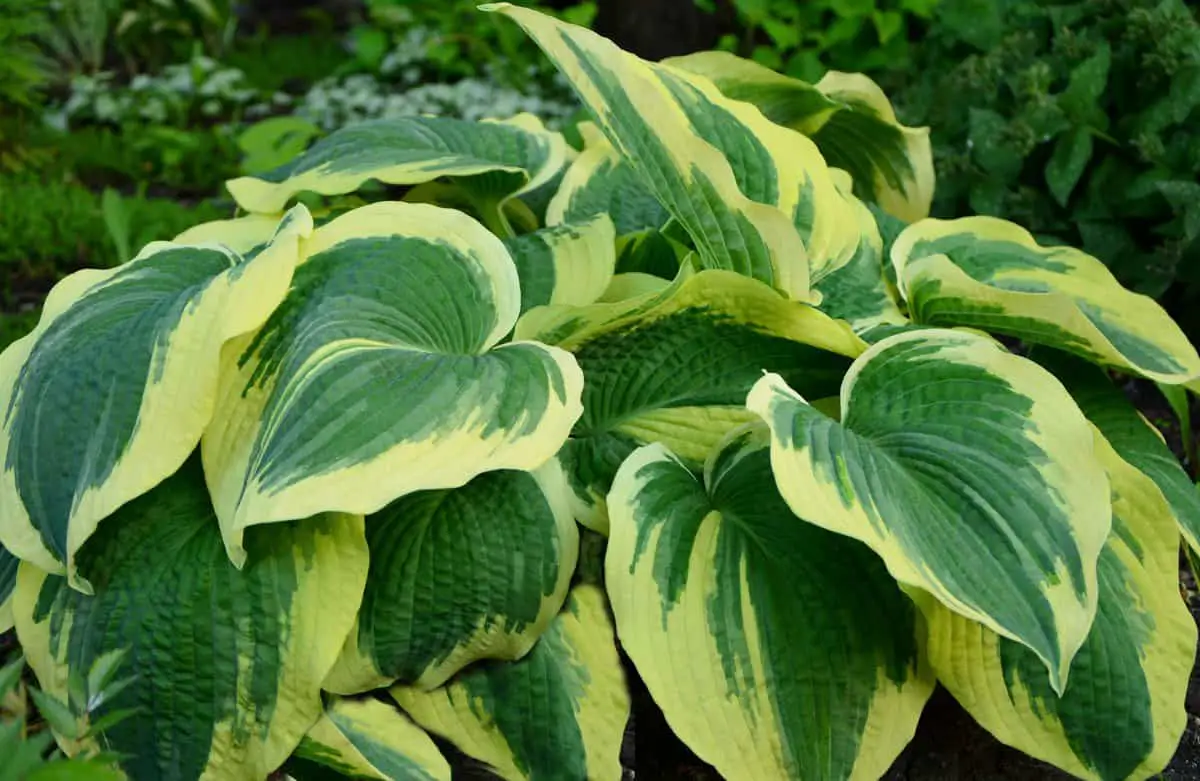 Where to Buy Hosta 'Earth Angel'
'Earth Angel' hosta is available from many reputable online nurseries. Check out your favorite vendor.
Monrovia Nursery is one of the largest nurseries in the United States. They grow 'Earth Angel' and supply retail nurseries across the country.
Walters Gardens is a well-known wholesale supplier of liners, including 'Earth Angel' to growers in North America.
Between these two suppliers and many smaller growers, you are likely to find 'Earth Angel' at nurseries and garden centers in most areas of the country.
Doppelgangers
'Angel of Beauty' Hosta
Another sport of 'Blue Angel' hosta. This is a large plant growing 20-24 inches tall and around 4 feet wide. The leaves are blue green with greenish yellow margins.
Originator: Mark Zilis & Ken Ziarek – Registered in 2022 by Owen Purvis
'Don Stevens' Hosta
Green leaves with a creamy yellow margin that ages to creamy white. A large hosta reaching 20-24 inches tall and 36-40 inches in width. Light purple flowers on reddish scapes. Parentage is unknown.
Originator and Registrant in 2004: Mildred Seaver
'Duke of Cornwall'
This hosta grows to 24-30 inches tall and 48 to 60 inches across. The large leaves are greenish blue with a variable yellow margin. A sport of 'Blue Angel'. The flowers are almost white with light purple stripes.
Originator: Barry Sligh – Registered in 2019 by the American Hosta Society
'Foxfire Gabriel'
A large plant with blue-green leaves and greenish yellow margins. Near white flowers. An unregistered cross from Steve Schulte of Foxfire Gardens. (Courtesy of plantsaglore.com and Mark Zilis' The Hostapedia).
Why Buy Earh Angel Hosta
The 'Earth Angel' hosta is an excellent perennial plant for those looking to bring unique beauty to their garden. With its beautiful foliage and vibrant flowers, it's easy to see why this plant is so popular with gardeners for many years.