Roses and hostas are beautiful additions to any garden, but they have different growing conditions that lead people to ask, can you plant hostas with roses?
So, can you plant hostas with roses? Absolutely! Many types of hostas and roses can grow in the same garden. The key is to find roses that do well with less sunlight and hostas that can tolerate a bit more sunshine than others. Once you've found the perfect mix, you can grow them side by side.
Luckily, there are rose and hostas species that thrive in these unusual growing conditions. I've unlocked the secret to growing roses and hostas side by side by carefully researching and monitoring their growth after I plant them.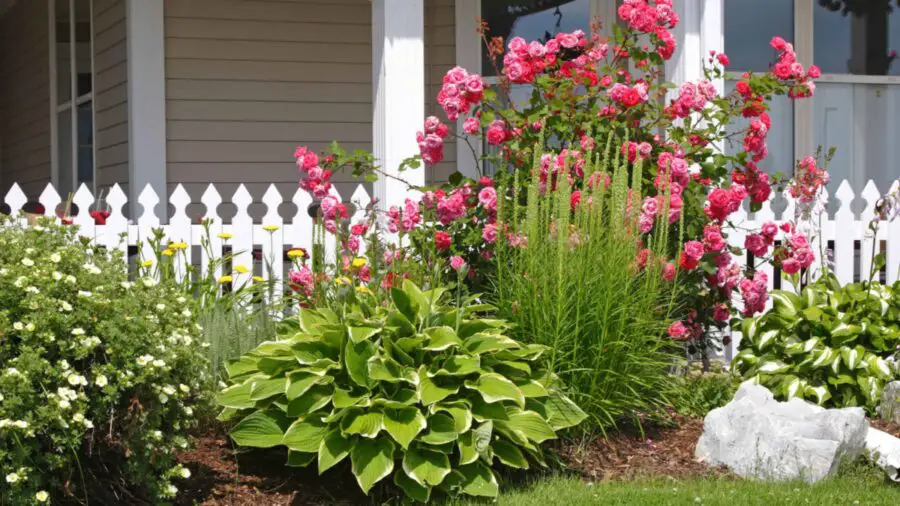 So far, I've been very pleased with the results, and you can find out how to have rambling roses and happy hostas in your yard or garden by reading more below.
How Do You Grow Hostas and Roses Together
The first thing you want to do is go survey your yard to find an area that has a mix of shade and sunlight. Roses need at least a moderate amount of sunlight during the day, and hostas need more shade to prevent burning.
Look around any tall shrubs, bushes, or trees you have in your yard. I have a large tree in the corner of my yard that casts shadows in the afternoon, and it's perfect for hostas and roses.
Luckily, soil pH isn't a factor you have to spend a lot of time worrying about. Roses are at their happiest when you plant them in slightly acidic soil in the range of 6.0 to 6.9pH . Hostas are happiest in more neutral soils that have a pH range of 6.5 to 7.5 .
So, make your roses happy pH-wise, and the hostas being hostas, will be happy.
Another important point is the soil's composition. It's a good idea to mix compost in before you plant anything if you have clay-based or sandy soil to inject a few nutrients.
Roses thrive with garden loam in the soil, and this soil allows for good drainage. Check your pH levels and monitor them regularly to stay within your chosen range.
A second thing to consider is the watering requirements of both plant species. Hostas are greedier with the amount of water they need, and roses like to dry out slightly between watering sessions.
This can be a challenge if you don't pay attention to the sun and shade ratio. The sunlight will help the roses dry out faster, and the shade will help the hostas retain moisture.
I added a light layer of mulch around the hostas to help them hold more moisture after each watering. You can have thicker mulch around the hostas and thinner around the roses to help with the moisture levels.
You can also add a dual drip irrigation system or water by hand. There are thousands of hosta and rose species available, but you want to avoid the hostas with thinner leaves.
These burn in the sun while hostas with wide leaves can tolerate more direct sunlight. You can get away with planting many species if you get some sunlight every day.
Which Hostas Can Grow in the Sunlight?
Once you get your area all set up for your hostas and roses, it's time to decide which species will do well in slightly sunnier conditions. Gold and yellow hostas do very well in these conditions, as do hostas with thick leaves because they're less likely to burn.
Yellow variegated hostas, hostas with small amounts of white variegation, and hostas with wrinkles, puckered, or pleated leaves also do very well.
There are dozens of hosta species that match this description. In order to make it easy for you to choose these hostas if your brand new to it, you can look at the table below.
I've listed over 50 different hosta plants that you can incorporate into your sunny area with your roses. Each one has slightly different coloring, sizes, and growth patterns, so you can make a unique area that is very eye catching.
Sun Tolerant Hostas
Adorable
Cracker Crumbs
Geisha
Luna Moth
Allan P. McConnell
Curly Fries
Georgia Sweetheart
Monster Ears
Amber Tiara
Dance With Me
Get Nekkid
Platinum Tiara
American Sweetheart
Dark Star
Gold Edger
Pocketful of Sunshine
Angel Falls
Darwin's Standard
Golden Scepter
Praying Hands
Ani Machi
Diamond Tiara
Grand Prize
Rainforest Sunrise
August Moon
Diana Remembered
Golden Falls
Red Stepper
Avocado
Doubled Up
Grand Tiara
Ruby Earrings
Avocado Toast
Emerald Tiara
Green Fountain
Salute
Ben Vernooij
Enchiladas
Hands Up
Smash Hit
Beyond Glory
Epiphany
Happy Dayz
Spritzer
Blonde Elf
Etched Glass
Hawaiian Luau
Sting
Bright Lights
Fantasy Island
Honey Bear
Sugar Babe
Cathedral Windows
Feather Boa
Island Breeze
Tea at Bettys
Cheatin Heart
Fireworks
June
Timeless Beauty
Cherry Berry
Flemish Gold
June Spirit
Tongue of Flame
Cherry Tart
Forbidden Fruit
Lakeside Banana Bay
Wings of a Prayer
Climax
Francee
How to Spot Problems with Your Hostas and Keep Them Healthy
There will be a small amount of trial and error when you first plant your hostas in partial sun. I know I spent a lot of time monitoring them to make sure they stayed healthy.
I also had to adjust a few things and come up with ways to decrease the sunlight without causing the roses to get sick.
One of the biggest things you can see on your hostas is the leaves, and this is where your first indicator that something is wrong will show up. Leaves that get too much sun burn, and this burning starts at the edges of the leaves and moves inward.
The leaves can turn brown and crinkle up, and this will eventually spread to the whole leaf before it dies.
To prevent this, you can get small pieces of shade cloth and create a small shaded area to suspend over your hosta. This will help to block more of the sunlight and keep it cool.
It can also help with moisture retention if you're having problems keeping up on it. Make sure this cloth doesn't cover your roses, and try to alternate when you have it on and off because your hosta should still get some sun.
If your hosta simply isn't growing, we have a guide that can help you remedy that problem.
Picking Roses That Grow Well in Shade
Roses need sunshine to grow, so it's no surprise that they do much better planted in the brighter areas of your garden that get the most sun.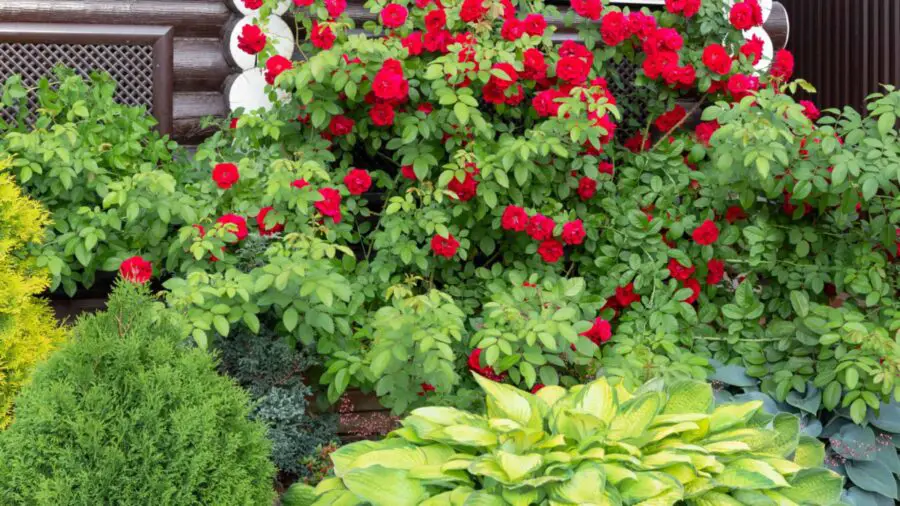 The nice thing with roses is that they come in so many different bright and bold colors, and you can mix and match them to help offset your hosta's natural coloring.
Since there are so many rose species available, it's challenging to narrow down which ones do best in dappled or light shade instead of direct sunlight.
I've picked out over 50 different rose plants that will do very well if you choose to plant them in lightly shaded areas with your hostas, and you can see them below. Try to pick out different colors that contrast nicely with one another.
How to Spot Problems with Your Roses and Keep Them Healthy
Shade Tolerant Roses
A Shropshire Lad
Fair Bianca
Marjorie Fair
Skylark
Ambridge Rose
Gertrude Jekyll
Marmalade Skies
St Swithun
American Pillar
Golden Celebration
Knock Out Series
Susan Williams-Ellis
Anne Boleyn
Golden Showers
Meivahyn
Teasing Georgia
Anthony Meilland
Grace
Mermaid
Tess of The d'Urbervilles
Ballerina
Graham Thomas
Mme. Hardy
The Ancient Mariner
Belinda
Gruss an Aachen
Moonlight
The Fairy'
Benjamin Britten
Heritage
New Dawn
The Generous Gardener
Bonica
Hyde Hall
Old Blush China
The Lady of the Lake
Brother Cadfael
Ice Meidiland
Olivia Rose Austin
The Lady's Blush
Charles Darwin
Iceburg Series
Princess Alexandra of Kent
The Lark Ascending
Constance Spry
Imogen
Princess Anne
The Mayflower
Cornelia
James Galway
Prosperity
The Mill on the Floss
Crocus Rose
Jude the Obscure
Queen of Denmark
The Poet's Wife
Crown Princess Margareta
Kew Gardens
Queen of Sweden
The Wedgwood Rose
Darlow's Enigma
Lady of Shalott
Roald Dahl
Thomas Á Becket
Docteur Jamain
Lichfield Angel
Roosemoor
Veilchenblau
Eden Climber
Lyda Rose
Scarborough Fair
Wildeve
England's Rose
Madame Alfred Carriere
Septer'd Isle
William and Catherine
F. J. Grootendorst
Madame Plantier
Roses can be slightly more finicky than hostas when it comes to their ideal growing environment, but it's relatively easy to spot problems early. The rose's growth rate will tell you whether it's getting enough sunlight.
You can stunt your rose's growth and have a hard time bringing it back if you don't give them enough sunlight when they're young.
You can also inspect your rose's leaves and flowers. When you do, you're looking to see if you can spot any dropping stems or buds. Soft growth is more prone to developing diseases than the firm growth you see on happy roses.
Video: Can Roses Grow in Shade
Some of the most common problems you'll see in soft growth are botrytis (gray mold), black spot, and rust. These diseases are the most common in roses.
Also, roses with soft growth that are growing in an area with higher humidity, as is common in shade areas, have an increased risk of infection. If you notice these problems, try to get more sunlight on your roses and watch the water levels.
Over-watering is very easy to do, and you should wait until the soil gets slightly dry between watering sessions. As for the sunlight, you may move anything around the roses that could block the sun.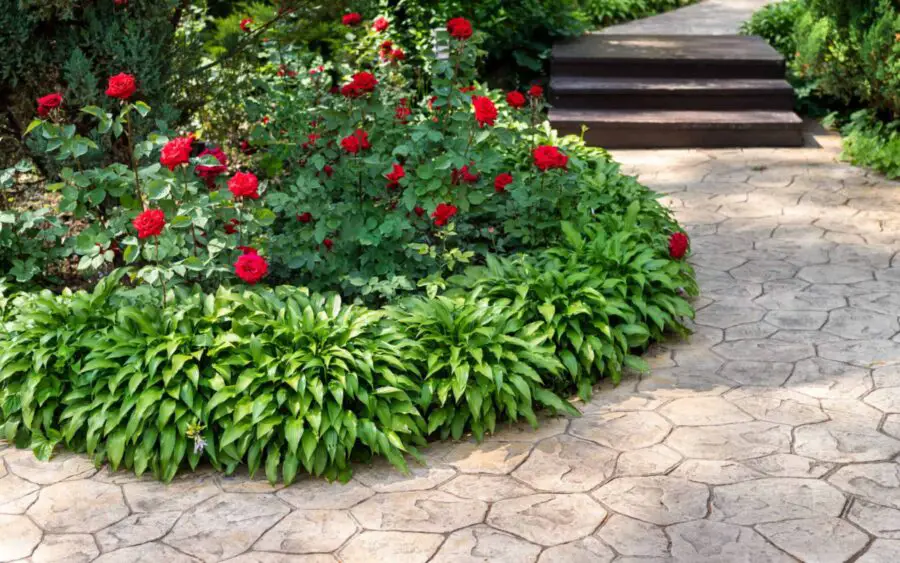 Frequently Asked Questions
What plants grow well with roses
Plants that are good companions to roses are the ones that hide the rose's stems. Traditionally, this included catmint, lavender, and dianthus.
Other plants that make good companions are ones that help suppress the weeds and shade the soil like hostas to keep the rose roots cool.
What plants look best with hostas
Hostas can come in a broad green coloring, and some have purple hues thrown in. So, you want plants like roses that offer both height and pops of color.
Make sure you choose a few different colored roses to make your whole garden pop and show off the green hues in the hostas.
Are hostas and roses annuals or perennials
Hostas are tough plants that are very forgiving if you want to move them once you plant them. Plus they don't have thorns.
However, roses should remain in place because they're more finicky, and they do not always react well to being moved. And they have thorns.
Closing Thoughts
So, can you plant hostas with roses? Now you know it is possible to accomplish this task as long as you choose rose species that grow in shaded conditions and hosta species that grow well in sunny conditions.
Both plants like rich and loamy soil with a 6.5 pH level, but hostas need more water than roses. When you plant them, remember to monitor them to ensure they're growing.
In no time at all, you can find yourself with a beautiful mix of hostas and roses that look wonderful all spring and summer long.