The beautiful 'Stiletto' Hosta is an eye-catching addition to any garden. Its lush, green variegated leaves with a narrow creamy white edge and ripple effect add a graceful touch.  Its fine texture and dainty spikes of lavender tubular flowers add a touch of whimsy in late summer.
'Stiletto' Hosta Plant
I really like this plant. 'Stiletto' Hosta is a small-size hosta variety that has lush, green leaves with a narrow white edge and a pronounced ripple effect. The leaves are wavy and narrow lance-shaped with creamy margins. It forms a nice, tight mound and is made more interesting because of its wavy leaf edges.
It has beautiful texture and contrast to other plants, and the leaves remain forest green in color with showy creamy white variegation throughout the season. The plant has a moderate to fast growth rate and can reach heights of 10-14 inches and spreads of 24-30 inches.  In the summertime, its impressive 16-20 inch tall flower scapes atop a low mound of foliage make quite a statement.
Appearance and Characteristics
Height:
10-12 Inches
Spread:
24-30 Inches
Size Classification:
Small
Plant Habit:
Mound
Foliage Color:
Green & White
Sunlight:
Part Sun to Shade
Growth Rate:
Moderate
Scape Height:
16-20 Inches
Flower Color:
Lavender
Bloom Time:
August
Fragrant:
No
Ploidy:
Diploid 2-2-2
Stiletto's Flowers
The 'Stiletto' Hosta is well known for its flowers. These bell-shaped blooms range from dark lavender to light purple with dark purple stripes. The scapes, or flower stalks, reach heights of 16-20 inches, making for a nice display in your garden. The flowers appear in August, and the plant can produce viable seeds.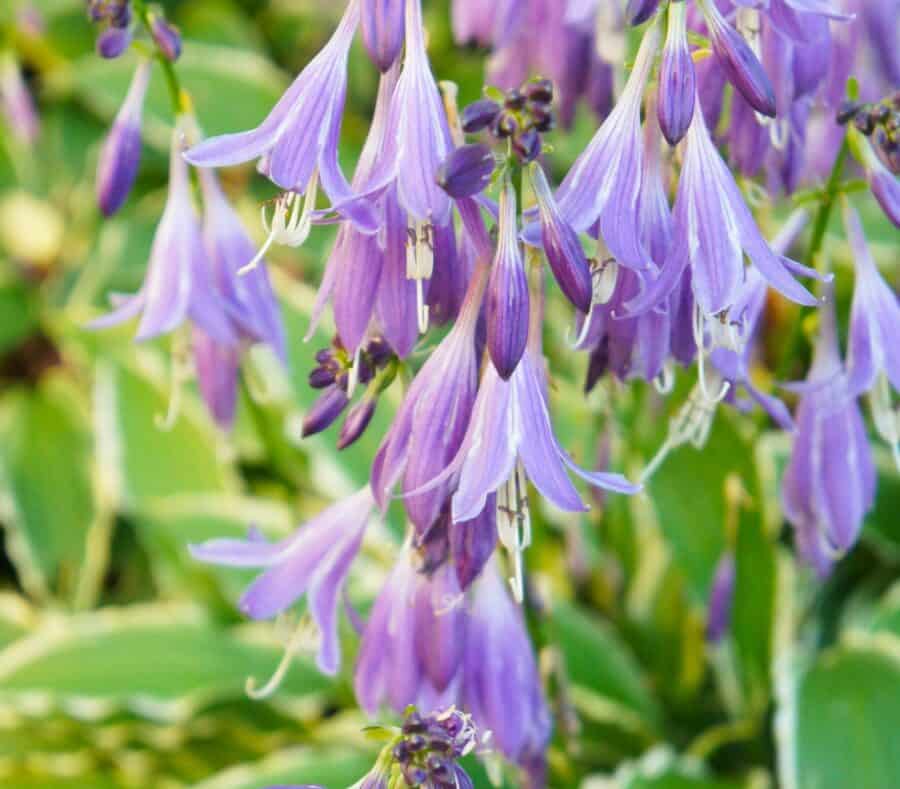 'Stiletto' Hosta Care in the Garden
'Stiletto' care is simple and easy. It prefers part sun to shade and moist, well-drained soil. According to Diana Grenfell in her book The New Encyclopedia of Hostas it should be divided every four to five years to retain its rippled edge. Also, 'Stiletto' is one of the early to rise hostas in the spring.
For a detailed look at growing small hostas see our article Small Hostas: Compact and Colorful Garden Wonders
This hosta is an ideal choice for a variety of gardens, as it can be used for mass planting, border edging, groundcover, and containers. The attractive foliage and tall flower stalks make it a great addition to any garden.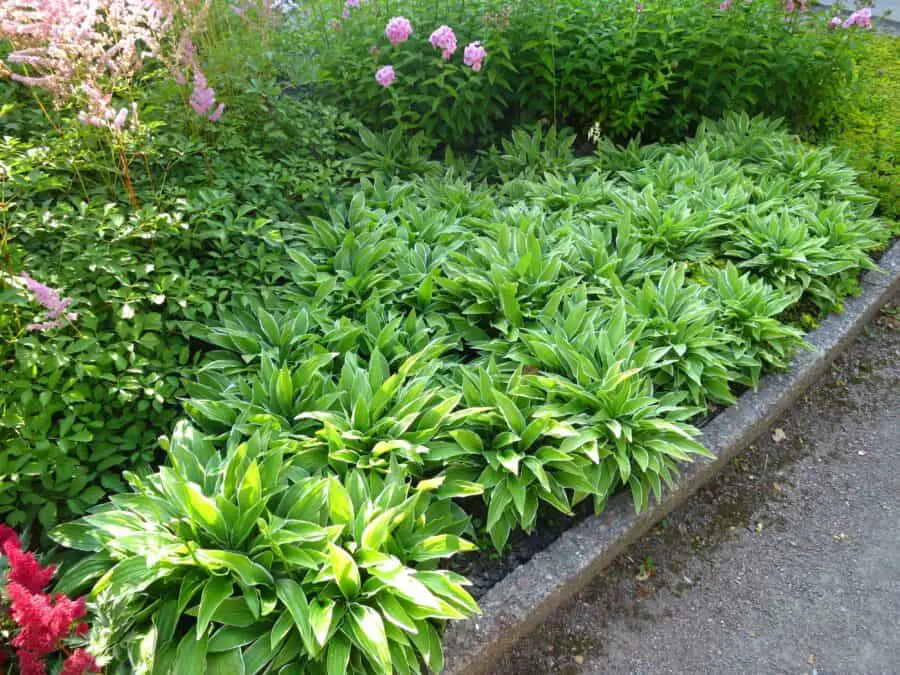 The History of Hosta 'Stiletto'
'Stiletto' was registered in 1987 by Paul Aden
Paul Aden is believed to have registered several crosses produced by others. Some suspect that this cross was produced by either Kevin Vaughn or Florence Shaw.
Availability
Available from many of the online hosta growers. You have a fair to good chance of finding this plant at a local nursery.
Doppelgangers
Hosta 'Chionea'
From Japan sometimes listed as a form of Hosta rectifolia but believed by Mark Zilis to be a hybrid in his book The Hostapedia. A nice plant but not near as nice as 'Stiletto', no ripples and wider leaves.
Not listed in the Hosta Registry.
Hosta 'Indy Parade Lap'
Another small hosta that is very similar in both foliage and flowers. Will be hard to find.
Registered in 2005 by Randy Goodwin.
Hosta 'Wiggle Worms'
This small hosta has a great name and is very similar to 'Stiletto' but again is going to be very hard to find. The flowers appear to be a little better looking than Stiletto's in Hosta Library's pictures.
Originator: Glenn Draper – Registered in 2009 by the American Hosta Society.
Sports
Hosta 'Boogie Woogie'
Another uncommon plant that is very similar to 'Stiletto' except for the streaking in the center of the leaf.
Registered in 1998 by Calvin Helsley.
Hosta 'Plaschken'
A green leafed version of 'Stiletto' from Germany. Again, hard to find.
Registered in 2010 by Martin Lokie.
Interesting Seedlings
'Hacksaw' Hosta
('Atom Smasher' x 'Stiletto') Lighter green leaves rippled and serrated. Serrations become more pronounced with age. Lavender flowers. A plant worth growing.
This plant is not listed in the Hosta Registry – Originator: Ron Livingston
'Bowflecks' Hosta
('Revolution' x 'Stiletto') A medium hosta with ovate leaves that are green with white margins containing green flecks.
Registered in 2021 by Dave Bowe.
Hosta 'Just Green'
('Stiletto' x 'Fried Green Tomatoes') Green leaves. Almost no information on this plant.
This plant is not listed in the Hosta Registry – Originator: Ron Livingston?
What Others Are Saying
A good selection of pictures is available at the Hosta Library.
More details and links to other info about 'Stiletto' and connected individuals at Plants Galore.
Pros & Cons
PROS
Great as a groundcover specimen
Vigorous grower with attractive foliage
Ideal plant for edging borders & pathways
CONS
Slug Susceptible
Hosta-X virus prone
Space holder
Why Grow 'Stiletto' Hosta
Despite being susceptible to slugs and Hosta virus, Hosta 'Stiletto' is an excellent choice for any gardener who is looking for an attractive, low-maintenance plant that can be used for a variety of purposes.
Its beautiful foliage and tall flower stalks make it a great addition to any garden. Plus, it's easy to care for and can be divided every few years.
If you're looking for a versatile plant that will make your garden stand out, then 'Stiletto' Hosta is a great choice.