If you want to add a touch of elegance to your garden, the 'Golden Tiara' Hosta is an excellent choice.
This small to medium-sized hosta is known for its striking foliage. It features wide-oval, medium-green leaves with irregular golden-yellow margins.
'Golden Tiara' Hosta Plant
'Golden Tiara' Hosta, also known as Golden Tiara Plantain Lily, is a perennial plant with attractive foliage which makes it an ideal choice for your shaded garden areas.
As your 'Golden Tiara' Hosta matures, you will observe the leaves changing hues. The mid-green, heart-shaped leaves can be up to 5 inches long, and they have irregular golden-yellow margins that eventually fade to cream.
This relatively small to medium plant can grow to heights of 12-18 inches, with a spread of 24-36 inches.
'Golden Tiara' Hosta exhibits a lush, mounding growth habit that provides a picturesque addition to any garden space.
Appearance and Characteristics
Height:
12-18 Inches
Spread:
24-36 Inches
Size Classification:
Medium
Plant Habit:
Mound
Foliage Color:
Green & Yellow
Sunlight:
Part Sun to Shade
Growth Rate:
Moderate/Fast
Scape Height:
26-34 Inches
Flower Color:
Purple
Bloom Time:
June-July
Fragrant:
No
Ploidy:
Diploid 2-2-2
Hosta 'Golden Tiara' Flowers
This perennial plant forms a distinctive mound of foliage with delightful purple flowers. The flowers appear in June-July, introducing an elegant flair to your shade garden.
Most hostas will only bloom once a year. A few cultivars will bloom twice a year if they are deadheaded as soon as the flowers are done. H. 'Golden Tiara' is one of this small group, sometimes called rebloomers.
History of Hosta 'Golden Tiara'
'Golden Tiara' Hosta was developed by Robert Savory, a well-known hosta breeder, in 1977.
H. 'Golden Tiara' is the result of experiments by Savory to increase the number of shoots in hosta seedlings using the species Hosta nakaiana. Plants Galore has more details about Golden Tiara's inception.
This plant does produce lots of offshoots, increasing faster than most hostas, so it appears that Mr. Savory succeeded in his experiments, at least in this case.
'Golden Tiara' proved a significant success in hosta breeding, As it was the first small-sized hosta to display a golden edge.
This cultivar became the patriarch of a long line of hybridizing successes called the Tiara Group. There are over 30 hostas in this group, and most have the word tiara in their name.
Received the Royal Horticultural Society's Award of Garden Merit in 1993.
Received the Alex J. Summers Distinguished Merit Hosta Award 1994.
Robert Savory received the Alex J. Summers Distinguished Merit Award, awarded for service to the American Hosta Society, the development of the genus Hosta or both.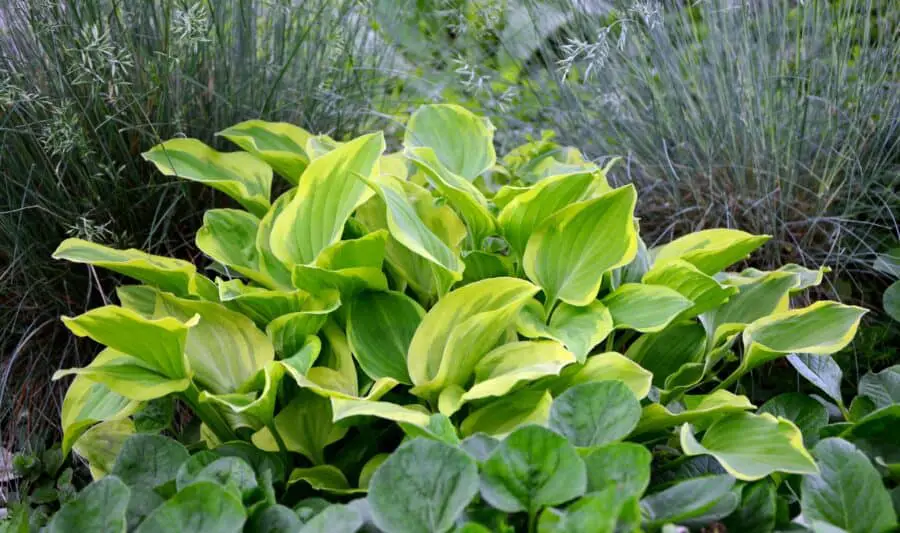 'Golden Tiara' Hosta Care
'Golden Tiara' Hostas are beautiful, easy-to-grow plants perfect for shaded areas in your garden.
Because a division of this plant grows so rapidly, you may find yourself dividing the plant more often than your other hostas.
One downside to 'Golden Tiara' is that it will quickly show damage from an infestation of foliar nematodes in gardens with this problem.
It is also more susceptible to viruses than the average hosta.
Propagation
Easy to increase by division because of its rapid growth.
The best time to propagate is in early spring or fall. Doing so will give your new plants ample time to establish themselves in friendly weather before summer or winter arrives.
Availability
Check your nearby garden centers to purchase 'Golden Tiara' Hosta from a local nursery. These stores often carry a wide range of hosta varieties, including 'Golden Tiara'.
Keep in mind that availability may vary by location and season, so it's a good idea to call ahead and confirm the availability of the plant you're looking for.
H. 'Golden Tiara' is available just about everywhere online. You might have difficulty finding a grower that does not sell this plant (I might have exaggerated just a little, maybe).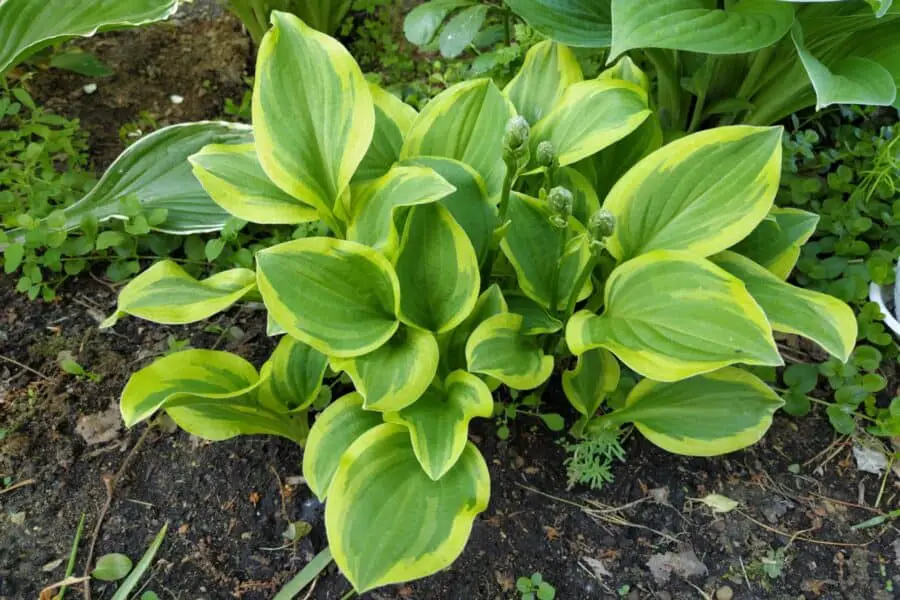 Interesting Sports of 'Golden Tiara'
H. 'Amber Tiara'
A small tetraploid plant with thick gold leaves. A great border plant. Purple flowers in mid to late summer
.Registered in 1998 by Walters Gardens, Inc.
'Diamond Tiara' Hosta
A fast growing medium sized plant that forms a dense mound. Green-centered leaves with a white margin.
Registered in 1985 by Mark Zilis
'Golden Scepter'
Small growing with chartreuse to golden leaves, depending on the season.
Registered in 1983 by Robert Savory
'Grand Tiara' Hosta
A tetraploid version of 'Golden Tiara'. Thick green-centered leaves with wider gold margins. Also sun tolerant.
Originated in 1991 by Ali Pollock, Registered in 2012
'Jade Scepter'
Lovely green leaves on a rapidly growing medium size plant.
Registered in 1988 by Mark Zilis
H. 'Platinum Tiara'
Chartreuse to gold leaves with a narrow white margin. Nice small hosta. A small but vigorous growing hosta.
Registered 1987 by Walters Gardens, Inc.
There are many more sports of 'Grand Tiara' as well as sports of its sports. Here is a link to a nice list. For pictures, check out the Hosta Library.
Seedlings
Hosta 'Teaspoon'
A small hosta with cupped green leaves makes a nice dense mound.
Registered in 1998 by Frank Nyikos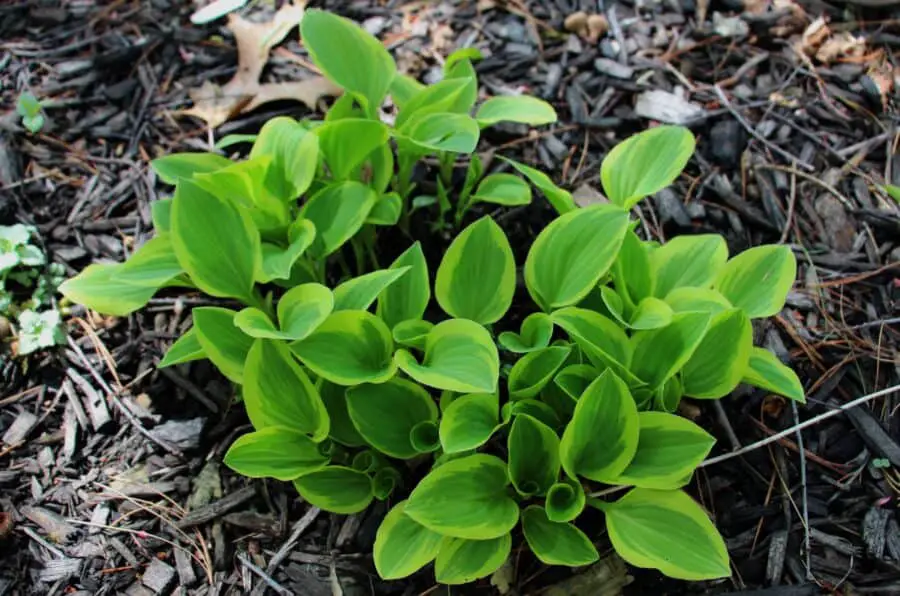 Why Grow 'Golden Tiara' Hosta
An advantage of the 'Golden Tiara' Hosta is its ability to grow in various conditions. It tolerates dryish soils better than many other Hostas.
The attractive foliage also provides visual interest in your garden, with leaves having chartreuse to gold margins and a slightly wavy appearance when mature.
'Golden Tiara' Hosta is a versatile plant suitable for various garden styles, such as in beds and borders, city gardens, cottage gardens, or containers.
It is also a perennial, meaning it will return year after year with proper care, providing your garden with consistent beauty and interest.