A mature 'Praying Hands' Hosta was a sight to behold. Its dark olive-green leaves, rippled and glossy, shone with a golden-yellow margin that set it apart from all the other hostas. It was a stunning example of nature's beauty, one that any gardener could be proud to show off.
'Praying Hands' Hosta Plant
The 'Praying Hands' Hosta had a tendency to draw the eye, its glossy leaves folded together in a manner that was almost like the hands of a devout supplicant in prayer.
Its dense texture and arresting appearance made it a popular choice in both sacred and secular settings, a symbol of piety and reverence that could also serve as a striking addition to any garden.
At maturity, the plant becomes a clump of foliage, standing at around a foot and a half tall and two feet wide.
The flowers, beloved by hummingbirds and songbirds alike, opened at the top of the verdant stem, creating a picturesque display of beauty that can't be denied. Mid too late summer was when these lovely blooms reached their peak, drawing wildlife and admirers alike to enjoy their vibrant colors.
Appearance and Characteristics
Height:
15-18 Inches
Spread:
18-24 Inches
Size Classification:
Medium
Plant Habit:
Upright
Foliage Color:
Green & White
Sunlight:
Part Sun to Light Shade
Growth Rate:
Moderate
Scape Height:
16-18 Inches
Flower Color:
Lavender
Bloom Time:
July
Fragrant:
No
Ploidy:
Diploid 2-2-2
'Praying Hands' Hosta Flowers
In summer, the pale lavender blooms adorn 16-18 inch tall green scapes. Hummingbirds and songbirds are fond of the blooms, and the sight of them is a reminder of the grace of nature.
History of Hosta 'Praying Hands'
At the back of the nursery in Minnesota, Gerald (Jerry) and his wife Lorraine stumbled across a hosta that was anything but ordinary. Jerry was immediately taken by the plant.
He bought it without a tag, sticking it into his garden and watching as it grew into a beautiful, one-of-a-kind hosta.
In 1996, at the urging of others, Jerry registered this unusual hosta, 'Praying Hands', as one of his friends had won a first prize with a division of Jerry's plant at a hosta show.
This formerly forlorn plant went on to great success, claiming the Hosta of the Year from the American Hosta Growers Association in 2011, and to top it off, receiving the prestigious Award of Merit from the Royal Horticultural Society in 2012. You can read the entire story at  My Northern Garden.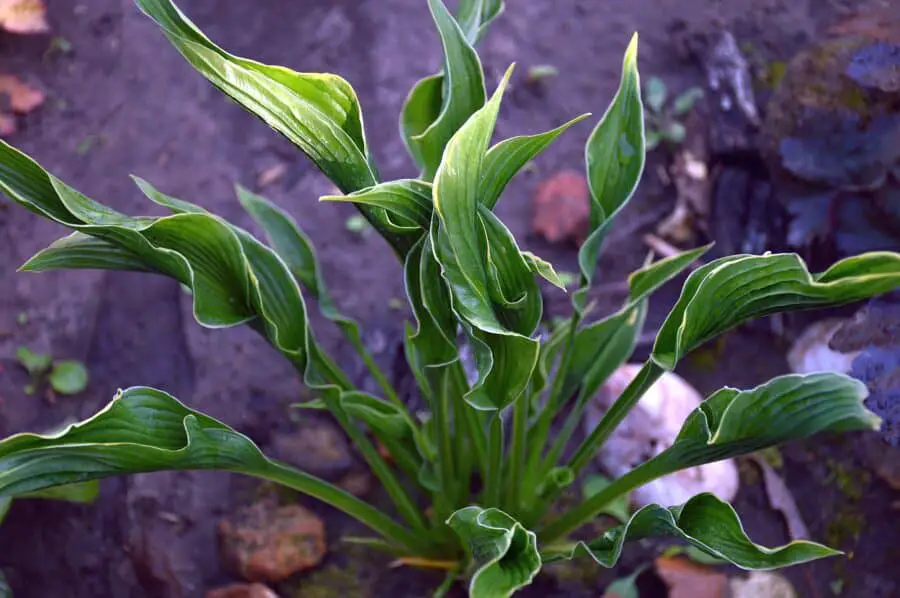 'Praying Hands' Hosta Care in the Garden
This hosta, though unique in its look, grows as easily as any other hosta, albeit slower in the beginning because of its narrow leaves.
'Praying Hands' does best in bright shade, needing a bit more sunlight than most hostas. But hot summer afternoons? No way. It'll still grow in moderate shade, though it might take longer.
An ideal plant for a container, either on its own or as the thriller in a mixed planter, it'd be hard to beat. Try placing the plant at about head height. It might surprise you how good it looks.
Coral bells, ligularia, ferns, lungwort, and bleeding heart these are the companion plants that look good with this hosta.
Take it from the garden and grow it indoors, transforming it into a beautiful eye-catching houseplant.
To grow as larger clumps or as a mass planting, space the plants about 12 inches apart.
'Praying Hands' is relatively resistant to slugs however, a large infestation can turn these beautiful plants into a sad sight. Slugs and snails, even in small numbers, are a serious problem for young plants. After the bloom, you don't have to cut the flower spikes. It rarely sets seeds, so the scapes won't take energy away from the plant.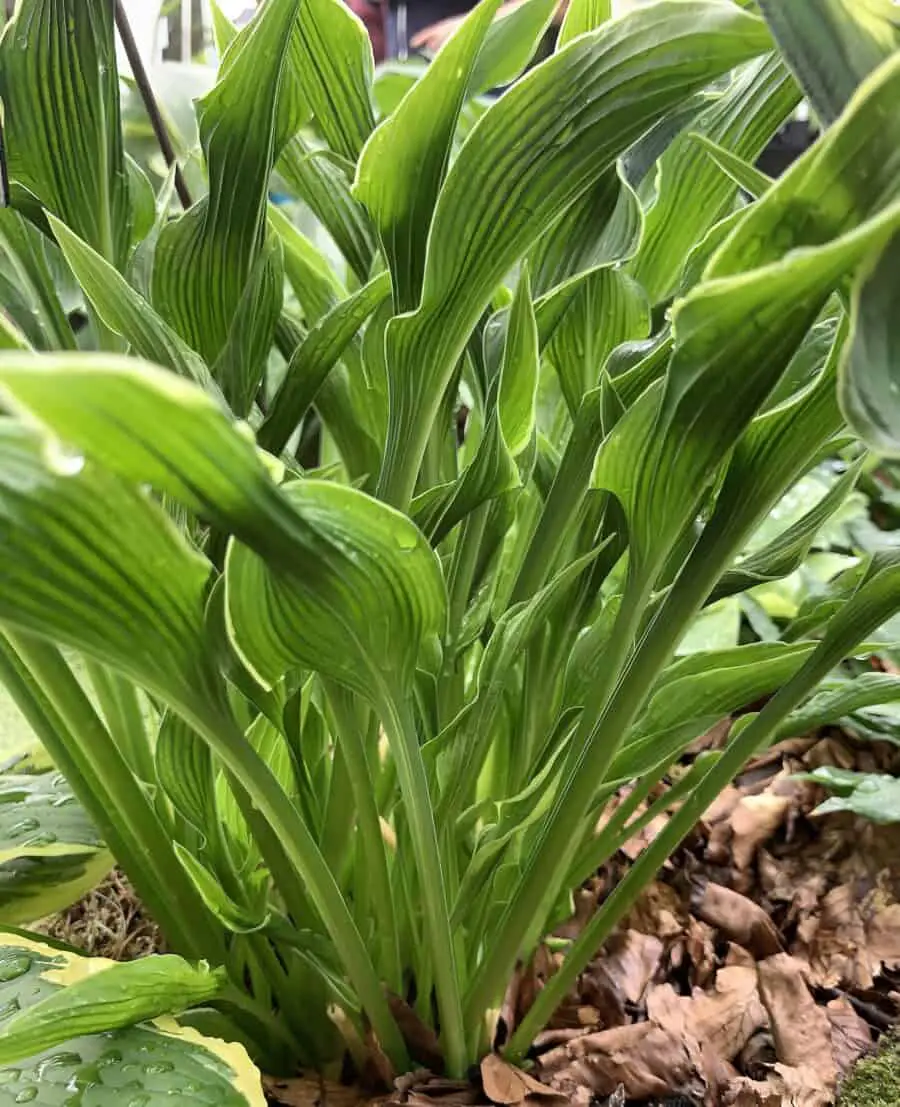 Hosta Growers Association Hosta of the Year 2011
Propagation
'Praying Hands' is a diploid (2-2-2). It is listed as being completely or nearly completely sterile. That means it does not reproduce from seeds at all.
Some plants do have pale green pods occasionally, but they are rare, and the seeds are not viable. If anyone has successfully produced seedlings, they are staying silent.
The plant is usually propagated in two ways. First is by tissue culture in the lab when large quantities are needed. The second, much simpler way, is by division.
That is the old-fashioned way, by division of large plants into several smaller plants. This is the way most home gardeners propagate hostas.
Availability
This plant is easy to obtain on the internet. Unless you have a local nursery that specializes in hostas, it is unlikely you will locate it at the local garden center.
Plants available at botanical gardens sales or through garden clubs offer an opportunity to acquire rare and hard-to-find specimens.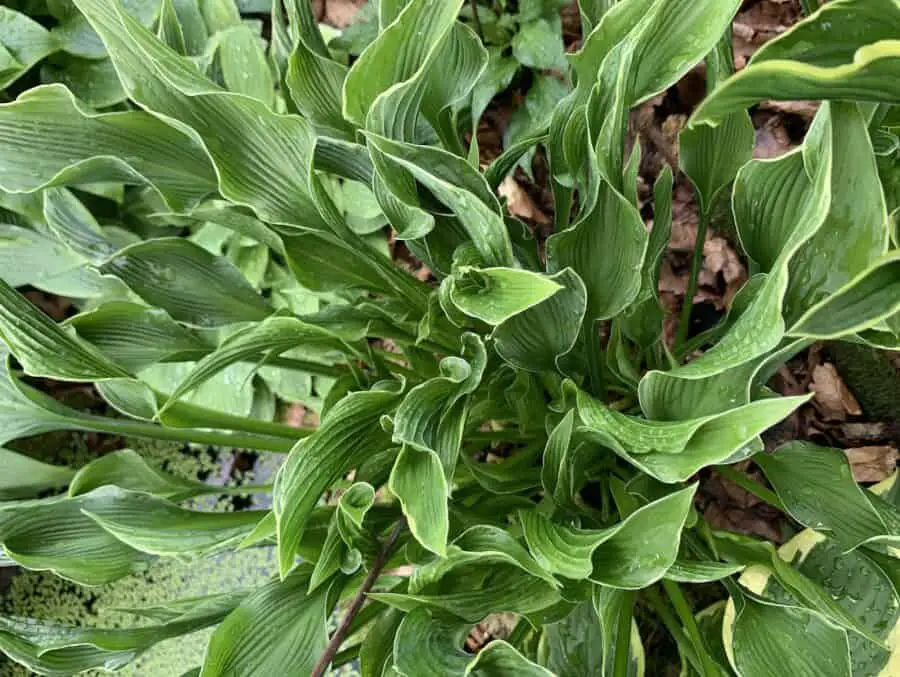 Doppelgangers
'Hands Up' Hosta
The 'Hands Up' Hosta is a sport of the original 'Praying Hands'. You can tell the difference by looking at the leaves: they'll be darker green with more varied yellow and white margins. The leaves fold together more fully, going past the folded hands look.
'Cowrie' Hosta
Likewise, the 'Cowrie' Hosta has a similar yellow to whitish margin. However, its leaves have a wavier or cupped appearance. You might even see some corrugation on the leaves.
This plant is not listed in the Hosta Registry but has been available from a few online nurseries.
Sports
Hosta 'Hands Up'
'Hands Up' is a popular 'Praying Hands' sport that is a colchicine-induced tetraploid that matures as an 8-10 inch tall by 12-16 inch wide clump. It is also patented in the United States and cannot be propagated commercially without the patent holder's permission.
It has long green leaves with a well-defined creamy-white border. We love the thick leaves because they last longer, and they also resist slugs better. Pale lavender flowers.
It is listed in the Hosta Registry but not registered.
Hosta 'Wings of a Prayer'
'Wings of a Prayer' emerge in spring with a pure-white margin, creating a rather striking look. The Flowers also are pale lavender on flower scraps about 24 inches tall.
This sport is an excellent option for those who want to keep the white margin year-round.
Registered in 2009 by Chris Wilson.
'Bohemia Praying Clown' Hosta
'Bohemia Praying Clown' features yellow leaf edges and streaks through its leaves that catch the sun and produce an eye-catching look. The leaves are also twisted and wavy and somewhat folded.
Registered in 2016 by Vladimir Mirka.
Hosta 'Devil's Delight'
'Devil's Delight' is similar to 'Bohemia Praying Clown', featuring yellow leaf edges and streaks as well as lavender flowers. The leaves are also twisted, wavy and deeply folded.
Registered in 2013 by Robert Danik.
Seedlings
None known.
What Others Are Saying
Additional images are available at the Hosta Library
Registration information is available at the American Hosta Society Registrar
Plants Galore of additional information
Why Grow 'Praying Hands' Hosta
'Praying Hands' hosta was once a unique and still special Hosta. Today the 'Praying Hands' sports are giving us more choices with different degrees of leaf folding, variegation color and even no variegation. This is a unique little family.
It was found unloved in a nursery and went on to win awards from AHGA for Hosta of the Year in 2011 and the Award of Garden Merit from the Royal Horticultural Society.
You can't beat the backstory on this one. It is a must-have plant for any Hosta grower.